The 1960s were marked by a wave of radicalism. From the global student protests demanding democracy to the countercultural revolution that swept the world, the decade transformed the social and political landscape, and its effects are still felt today. The '60s also cemented New York as the epicenter of the West's (white, male-dominated) avant-garde, even though that road had been paved in the 1950s by Abstract Expressionists like Jackson Pollock, Mark Rothko and Willem de Kooning, and others who enchanted critic Clement Greenberg, such as Barnett Newman, Kenneth Noland, and Helen Frankenthaler—artists who the esteemed critic thought of as carrying the torch of art history into the modern era.
But by the mid-1960s, the perspectives of Greenberg, Pollock, and their ilk began to feel institutionalized and removed from the fringe, which continued to push the formalist concerns of art, in both its practice and its critical impact on society. It must be noted that while arts originating in the East and the Southern hemisphere were often in dialogue with Western trends, the regions' differing social and political concerns, especially under the Cold War and communism, dominated art production. What was avant-garde in the West now didn't necessarily rely on a brush and canvas, and instead protested against convention by incorporating popular themes, motifs, and subjects as well as new forms of media into the fine art tradition.
In tandem with strides made in academic thought, art fell under the spell of deconstructionist philosophy, with theoretical redefinitions of authorship (via Michel Foucault), symbols and signs (Jacques Derrida), spectacles (Guy Debord), and ideas of mediation (Marshall McLuhan). But however loaded the conditions in which these new art practices were created, the work of the 1960s
remains vivacious and compelling—even the rather cold lines of minimalism fit in with the caloric punch of Pop and the screaming silence and chaos of Fluxus. Just who were the artists to shift art onto its contemporary stage? Below, we walk through the most iconic moments of the 1960s.
Pop
Undoubtedly the flashiest point of departure for painting arrived with Pop Art. While it was Andy Warhol in America who perfected the incision that ripped open the contemporary art stage, leaving behind the terms and conditions defining "fine art," Pop actually originated in England with Richard Hamilton's Just what is it that makes today's homes so different, so appealing? (1956). But America, a country whose cultural life is dominated by consumerism, offered abundant visual material for Warhol to mastermind a true conceptual revolution: artmaking driven by critical mass and celebrity.
By now, Warhol's exploits with Campbell's soup cans and Marilyn Monroe are deeply ingrained in the popular imagination, but in 1962—when Warhol began working exclusively in the photographic silkscreen series that he carried on through 1965—the mere idea that something as banal and mundane as a cheaply manufactured food product or a Hollywood starlet could be viewed as art was received as a big middle finger to the history of painting, and to the cultural establishment in general. Here was a mixing of high- and lowbrow cultures, allowing for a "no-brow" mentality to permeate into cultural production.
In addition to introducing new subject matter, Warhol also popularized the practice of appropriation—the idea of quoting from sources other than the history of painting. Just as Marcel Duchamp incorporated found objects into art's canon, one can still draw a line from Pop Art's championing of pastiche to today's mashup and all-brow culture. And Warhol certainly inspired his own appropriators, a notably early one being Elaine Sturtevant, who upped her provocative art-star imitations by borrowing Warhol's silkscreens, further complicating the artist's vexed approach to authorship.
While Pop is seen widely as an American export much like Coca-Cola, in Germany Sigmar Polke deeply impacted the course of painting by removing many of its associations with rational Kantian aesthetics, thereby pointing out the subjectivity and immediacy of the medium. His philosophy of artmaking, unprecious and democratic in nature, can be summed up as "anything goes," and Polke's influence is felt deeply in today's landscape.
Minimalism
If Pop was breaking down the social parameters of art production and reception, Minimalism carved out a new space for art's theoretical, more highbrow ideas to thrive. It's no secret that the movement, precursored by the gridded paintings of Abstract Expressionist outliers like Agnes Martin and Ad Reinhardt, was admired greatly by the European intellectuals driving much of the philosophy and intellectual thought of the 1960s and '70s. But, again, it was against the backdrop of 1960s New York that the practitioners of Minimalism gained currency with their efforts to give viewers a new experience of space and its relation to their own bodies. Donald Judd, perhaps the most vociferous representative of the obliquely hushed style, perfected a style of mirrored plexiglass stacks and reliefs that he claimed, in the 1965 essay "Specific Objects," existed outside both sculpture and painting, thus negating their position in art history.
Despite never self-identifying as a group, the Minimalists, who included Judd, Dan Flavin, Carl Andre, Robert Morris, and Sol LeWitt, were close friends and circulated ideas as if they were a formal art movement. While Judd certainly led the bandwagon and his legacy has impacted the areas of architecture, design, and philosophy, Flavin's use of found industrial material, specifically fluorescent lights beginning in 1963, sparked a fervor in artmaking that not only technologized Duchamp's readymade but also illuminated McLuhan's idea that "the medium is the message," an enduring theoretical apparatus in much of today's contemporary art.
Conceptual Art
With theory taking hold at the core of artmaking, especially at the hands of 1960s critic du jour Michael Fried, "concept" replaced subject. But it was Sol LeWitt's 1967 "Paragraphs on Conceptual Art" that widely circulated the term, which then became a fundamental and enduring art genre. LeWitt, Joseph Kosuth, Daniel Buren, Terry Atkinson, and Michael Baldwin became the Western torchbearers of this style, opening up a discourse on the society and conditions in which art was made.
While he worked with the Minimalists and then Fluxus, LeWitt's sweeping practice also encapsulates the broad range and encompassing character of Conceptual Art—just take a look at Basic Principles of Drawing (1968), in which LeWitt only drew lines in four directions: vertical, horizontal, and two diagonals. These drawings could seem primitive or mathematical, but ultimately they reconfigure both the symbolism and representation of figures in space, as well as the very essence of what drawing is.
Interestingly, conceptual art was also bolstered by John Cage, who is most often lauded for his contributions to music and performance. But Cage, who introduced silence as an active musical element in the 1970s, is essential for understanding conceptual art, performance art, and Fluxus. In the late '50s and early '60s, Cage taught at Black Mountain College, where he cradled the idea of "Happenings," which, after being so dubbed by Allan Kaprow in the later 1960s, spread like fire throughout the art centers of New York, Paris, and Milan as the apotheosis of art as experience. Cage's own musical notations are often regarded as artworks in themselves, and his ideas about language and alternative media greatly expanded the boundaries of what constituted the definition of art.
Fluxus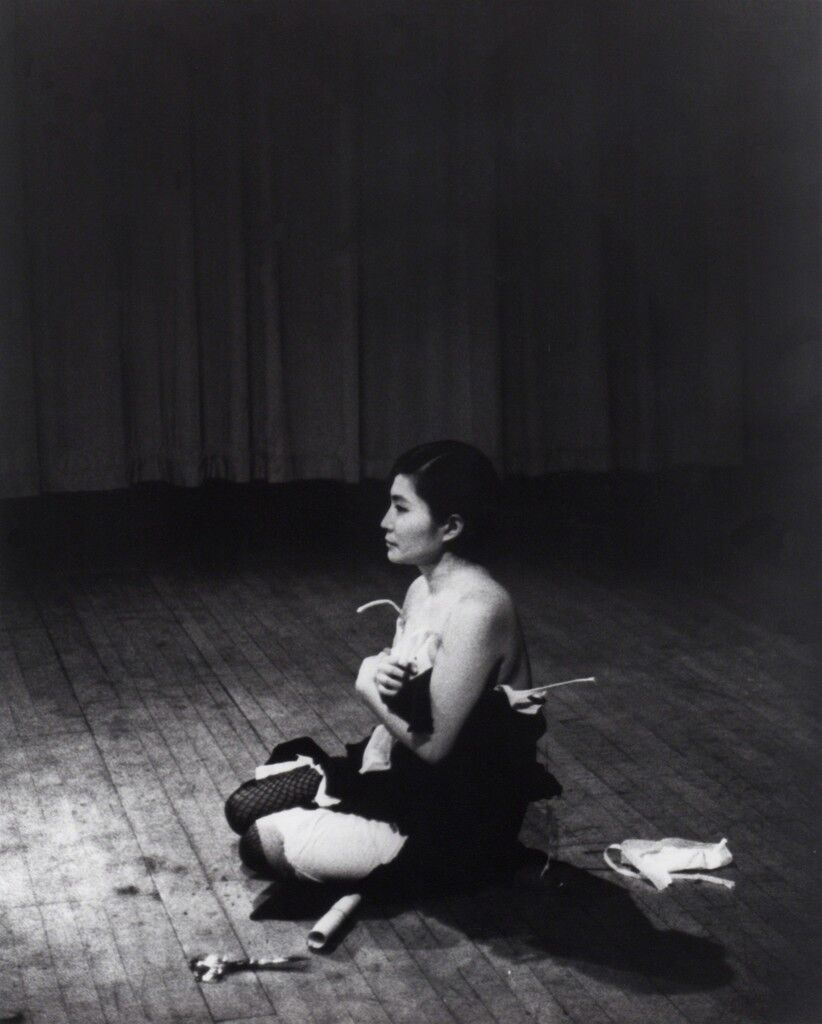 In 1962 George Maciunas wrote a manifesto for a movement called "Neo-Dada," which eventually grounded Fluxus. In it he advocated both for the blending of art styles (as Dada had, especially with collage and theatrical performance) and for the legitimization of time and space as concrete material for artistic endeavor—meaning that time and space were objects just as paint and metal are. Fluxus, derived from the Latin word for "flow," tried to break down the barrier between art and life.
When Joseph Beuys bellowed onto the scene, after studying at Düsseldorf's Kunstakademie, he blended static art, performance, and theory into a pungent blend that defined the antics of Fluxus. His famous moment came in 1964 at a Fluxus concert in Aachen, Germany, when a festival spectator punched Beuys so hard that he began to bleed heavily. Instead of retaliating or wilting, Beuys grabbed a cross and blessed the audience as if he were a Christ-like figure.
Beuys soon befriended the Korean-born Nam June Paik, who went on to introduce technological media into artmaking as a fellow member of Fluxus. While he worked in a variety of media, Paik often used televisions to create coordinated installations of images and films, creating the world's first "video works," in some cases piling up hundreds of TVs or positioning them within nature, furthering Fluxus's mission of integrating art and life. Among many others, Paik collaborated with another Fluxus member, Yoko Ono
Arte Povera
This democratic spirit found another advocate in the group of Genoan artists that Germano Celant labeled "Arte Povera" in 1967. The movement, especially spearheaded by the witty Michelangelo Pistoletto and mischievous historicist Giulio Paolini, looked to the quotidian for both its subjects and material, and often poked fun at or unearthed the absurdity of life. There could never have been a Maurizio Cattelan without the pioneering works of Mario Merz, Giuseppe Penone, and Pistoletto, whose Venus of the Rags (1967, 1974) cemented the idea of juxtaposing unrelated but historically potent objects to undermine political and social convention, and whose mirror pieces continue to be snapped up by collectors and art fair-goers in droves. And it wasn't simply Italian or Roman art that these artists incorporated into their works—Merz was often a fan of appropriating igloos or other nomadic objects into his sculptures. The artists of Arte Povera advocated for pluralism in art, and also in society.